St. Louis Home Lighting Repair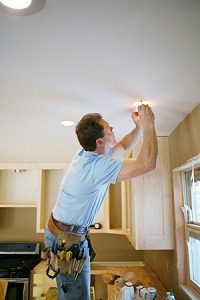 Flickering lights or lighting connections stop working despite how many new bulbs you try can be an indicator of other electrical problems, so it is important to address these issues as soon as possible to ensure your safety.
Lighting repairs are an important part of the look and feel of a St. Louis home. Improper lighting can be annoying, unhealthy, putting unnecessary strain on your eyes. Likewise, the type of lighting you choose can cause eye strain as well as ruin the overall look of a room.
Our St. Louis lighting repair experts can assist you with any lighting repair, lighting installation or any lighting upgrade. Our electricians have experience with all types of lighting such as: outdoor lighting, security lighting, landscape lighting, pole lighting, indoor lighting, ceiling fans, fluorescent lighting and more.
Whether your lights are flickering annoyingly, or a hard to reach exterior light has stopped working, or any other number of lighting problems you may face, you can count on Anytime Electric, your reliable St. Louis electrician, for quality electrical repairs.
Our Lighting Repair Offers the Following Services
Lighting Repair
Pool Light Repair
Landscape Lighting Repair
Fluorescent Light Repair
Light Fixture Repair
Kitchen Lighting
Indoor Lighting
Outdoor Lighting
Track Lighting Repair
Electrical Repair
Bathroom Lighting
Lighting Installation