St. Louis Electrician and Electrical Repair Contractor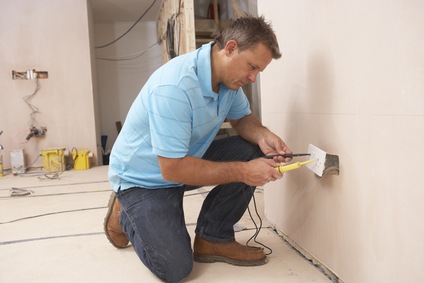 When it comes your home, your electrical system is probably the most crucial part of your home or office. Don't trust it to just anyone. "Anyone' can cause major damage to themselves, to you and/or to your home. A licensed and certified electrician from Anytime Electric will come and assess your current electrical system, track down the problems and give you the best solutions and service that you will be 100% satisfied with.
St. Louis Home Generators
When you lose power, that can be extremely frustrating. Here in St. Louis, we get our share of storms and bad weather. When we do, we can lose power. It could be hours before the power company to get it back on. Want to make sure you don't lose power - install a generator. We call them 'Standby Home Generators'. When we fit you and install a generator, you may never know when the main power was actually lost.
Let Anytime Electric install your St. Louis home generator. It is not much larger than the typical A/C unit and is placed outside of your home. Here's how they work. Think about your A/C unit for your home and how when the temperature reaches a point below the set amount, the air kicks on. It is the same thing with your newly installed home generator. As soon as the power is lost, it kicks on and keeps the power flowing.
St. Louis Electrical Repairs
Ever try the move where you unscrew a electrical faceplate with a butter knife? We've all seen it. Don't Do That! If your home needs St. Louis Electrical Repairs, give us a call. The professionals at Anytime Electric are licensed electricians and know what to do and have the tools to do it. Electricity can be extremely dangerous. Let us handle your all of your electrical needs and repairs. We will do it right - and right the first time. We can fix most any any electrical situation.
At Anytime Electric, we are your one-stop-shop St. Louis electrical repair contractor.
St. Louis Panel Upgrades
If the ancient Egyptians help build your home, you may be in need of an electrical panel upgrade. If you want to run the newest LCD 1080p HDTV while cooking on your new stainless steel smooth top stove as you grab food out of the largest refrigerator you could find, you may have power issues. Even a simple new microwave can trip a breaker in your electrical panel. We can fix that though. We can come out and perform a 'Service Change'. When we do this, we update it all:
Electric Panel;
Meter Socket;
Wire Gauge between the meter and panel.
This electrical panel upgrade will solve most problems with the existing electrical panel. Even if you have a breaker overheat, not trip, this could lead to electrical problems. Call us at Anytime Electric to get your electrical panel squared away.