St. Louis Home Generators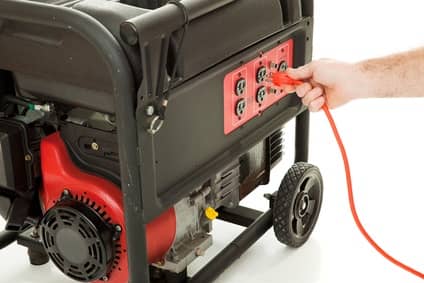 There is nothing worse than a big thunderstorm knocking out power for your entire St. Louis home. The disruption of power for substantial lengths of time can occur at any time due to a number of reasons. Having emergency backup power is not only essential for commercial establishments, but also in St. Louis homes to run much needed appliances like lights, refrigerators, heaters, air conditioners, etc. Also you need to keep your food cold and frozen in your refrigerator.
There are basically two types of generators that can be used in an emergency: portable generators and permanent standby generators. The main difference between the two is their output power and price.
In times of emergencies, portable generators provide the most economical way of supplying back up power. Appliances are directly plugged into the generator using the recommended extension cord or alternatively are connected to the home wiring system using a transfer switch. The generators come with an electric start or a pull start and loaded with many other features including the GFCI receptacles.
At Anytime Electric, we can make sure your home or office does not lose power by installing a stand by generator. Our St. Louis home generator experts can access what your needs are and advise you on what type of backup generator you will need. Call today for a free quote and to answer any questions you may have.
Our Home Generator Provides the Following Services
Portable Home Generators
Home Backup Generators
Home Electric Generators
Home Generators for Power Outages
Home Generators
Home Generator Systems
Home Generator Sizing
Home Generator Installation
Home Generators
Home Generator Systems
Home Generator Sizing
Home Generator Installation
---
Recent Home Generator Related Articles
Proper Maintenance and Care For Your Home Generators

One of the most important investments you may ever make for your home is back up power. The truth is, you never know when your power is going to go out in your home. So whether it's weather conditions, a power outage at the plant, and […]