Illinois Electrician and Electrical Repair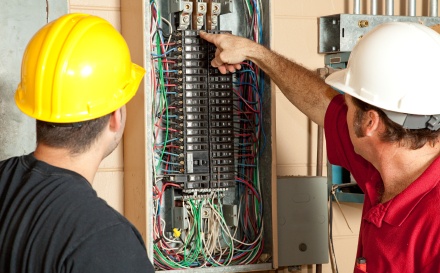 The electrical lines in your home or offic eare it's lifeforce. When you have electrcial issues, you need to call a reputable electrical repair contractor. At Anytime Electric, we are professional technicians that are licensed, insured and certified. Our electricians can show you where the problem lies, how to get it fixed and give you a very competitive rate.
Illinois Home Generators
We know that your home is where you go to escape to. This is where you feel safe and protected. Who wants to have power issues to deal with? All it takes is for a bad storm to come and knock down some power lines and now you castle feels more like an asylum. Let us at Anytime Electrical help you with tat by installing a Standby Home Generator. Once this is connector to your home, you will never even know about the power outage because your home won't even miss a beat.
When we install your Illinois home generator, you may never even notice that it's there. With the small form factor, it's almost 'out-of-sight, out-of-mind'.
Illinois Electrical Repairs
If you are experiencing electrical issues at your home or office, note that Anytime Electric has more than likely not only has seen the problem, but also repaired it. The electrical experts here have the years of experience to know how to access the situation, but also how to fix it and fix it quickly.
We are excited about the opportunity to help you solve even the toughest elecrical problem!
Illinois Panel Upgrades
Looking to get a new refridgerator? How about a new stove & oven? Before investing in a house full of new major appliances, call us to do an evaluation of your electrical situation. It may be time for an upgrade to your electrical panel. You don't want to invest the time, effort and money into these appliances only to find out that a breaker trips every time you make a bag of popcorn in your new microwave. We can get you up and running with a 'Service Change'. If needed, we update the electric panel, the meter socket and the wires between your meter and your panel.